Younger Kawai Finally Gets Best of Rival Tynybekova with Dramatic Win in Possible Olympic Prelude
By Ken Marantz
NEW DELHI (Feb. 21)— The minuscule amount of time on the clock was less significant than the location on the mat as Yukako KAWAI (JPN) pulled off a last-second victory over nemesis and world champion Aisuluu TYNYBEKOVA (KGZ) in what could be regarded a prelude to the 2020 Olympic final.
Kawai, who had lost two previous meetings with Tynybekova within the past year, pulled off a dramatic lateral drop at the edge to notch a 4-1 victory in their quarterfinal match to start the women's 57kg competition on the fourth day of the Asian Championships.
Kawai, a 2018 world silver medalist who had to settle for a bronze last September in Nur-Sultan, followed up her win by defeating up-and-coming teenager Sonam SONAM (IND) in the semifinals as all five Japanese in action made it to the finals, to be held in the night session at K.D. Jahrav Wrestling Stadium.
In another high-profile match early in the program, world silver medalist Mayu MUKAIDA (JPN) made it 3 for 3 in meetings with bronze medalist and local star Vinesh VINESH (IND) with a 6-2 win in their quarterfinal clash at 53kg.
Rio 2016 Olympic and three-time world champion Risako KAWAI (JPN) took some time to get in gear, but joined younger sister Yukako in the finals with two solid victories at 57kg.
Yukako Kawai had lost to Tynybekova in the final of the 2019 Asian Champi0nships in Xi'an, China, then again in the second round at the World Championships in Nur-Sultan.
"At the World Championships, I didn't wrestle my match and ended up losing," Kawai said. "So I focused on wrestling in my style."
Until the dramatic finish, the only points came on the activity clock, with Tynybekova earning hers in the second period to be ahead on criteria. Kawai got nowhere with a front headlock, then worked to secure a double underhook as the seconds ticked off. She then hit the lateral drop to slam Tynybekova to her back with :02 on the clock.
The big issue was whether the move was launched outside of the circle, but it was upheld on video challenge, giving Kawai her final point.
"I was aware of the time, and if I was going to lose anyway, I thought I have to just give something a shot," Kawai said. "It was all or nothing."
Kawai regards the victory as giving her a psychological edge going into the Tokyo 2020 Olympics.
"She's an opponent whom I have never beaten, so I wanted to beat her once going into the Olympics," Kawai said.
Kawai still had to get past Sonam, who ousted veteran Sakshi MALIK (IND) from the national team spot at 62kg. Trailing 1-0 going into the second period, Kawai scored a stepout point while on the activity clock, then added a takedown en route to a 5-2 victory.
"Looking at her videos, I had the image that she was very powerful, and in reality, she was really strong, and she made it difficult for me," Kawai said. "From that match I saw things I need to work on when I get back home in practice."
In the final, Kawai will face 2017 Asian bronze medalist Ayaulym KASSYMOVA (KAZ) in an attempt to capture her first senior continental title.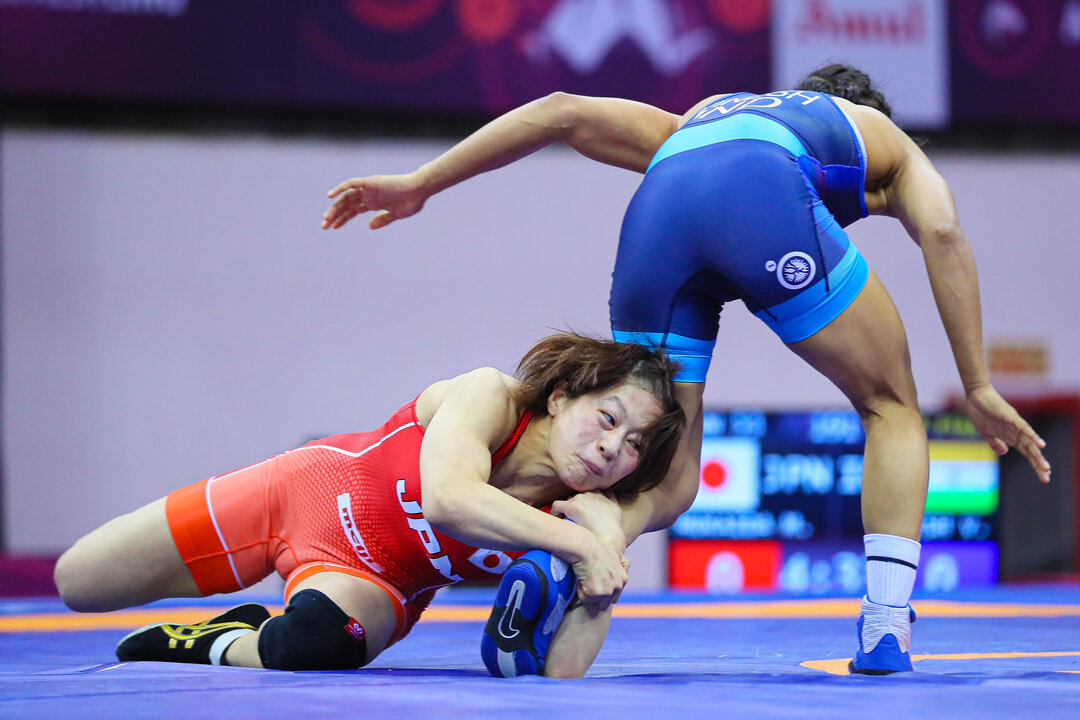 Mayu MUKAIDA (JPN) won her third straight match against Vinesh VINESH (IND) with a 6-2 opening round win. (Photo: Kadir Caliskan)
At 53kg, Mukaida used a nifty sweeping single-leg attack to both sides to get past Vinesh. After the second, she added a gut-wrench to go-ahead 6-0. While Vinesh scored her first-ever points against the Japanese with a sweeping single of herown, her attacks were effectively shut down.
"This was our third meeting and Vinesh is really a strong competitor," Mukaida said. "I had to be wary of her. I'm sure she did her homework as well, so it was difficult, but I was able to get in [on my attacks]."
Indian women's team coach Andy COOK said he was encouraged by what he saw from Vinesh.
"The game plan we had worked, for the time we were in it," Cook said. "As we switched up a little bit, we got caught up, and we gave up really one takedown and two gut wrenches.
"We have to work on a different par terre defense, just make a small adjustment so she doesn't make any big body movements. That's what caught us, when she went from a lace to a gut and then, bam!"
Mukaida, who made the final with an 10-0 technical fall of Thi Ly KIEU (VIE), will aim to regain the Asian title she won in 2017 in New Delhi when she faces Tatyana AKHMETOVA AMANZHOL (KAZ) in the final.
"This time, the big match was at the beginning," Mukaida said. "It's also my first competition in a while. To get back my match sense, I thought all the time before coming that I want to have a good tournament."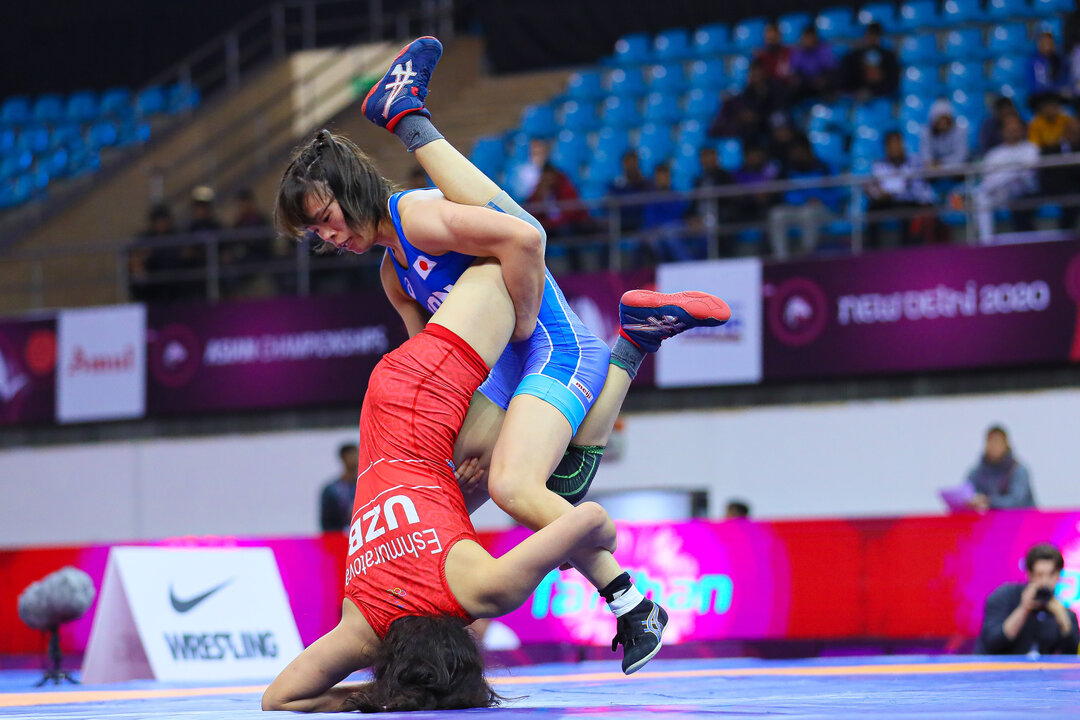 Risako KAWAI (JPN) is on a quest to win her fourth Asian gold medal. (Photo: Kadir Caliskan)
Risako Kawai, the Asian champion in 2015, 2016 and 2017, will try for title No. 4 when she faces Davaachimeg ERKHEMBAYAR (MGL) in the final.
Kawai opened with a 7-0 win over Sevara ESHMURATOVA (UZB), in which she had just an activity point in the first period, then overwhelmed Anshu ANSHU (IND) by 10-0 technical fall in the semifinals.
"I was nervous," Kawai admitted. "It's my first overseas tournament since the World Championships, so I was a bit nervous, and a little tight. The first match went like it did, but in the second match I was moving much better."
Japan's other finalists are 2019 Asian silver medalist Naomi RUIKE (JPN) at 65kg and world U-23 bronze medalist Mei SHINDO (JPN) at 72kg.
Ruike will face Malik for the gold in a rematch of their preliminary group match, which Ruike won 2-1 with all points scored on the activity clock. Malik has already improved on the bronze medals she won the past two years.
Shindo's last barrier on the path to gold comes in the form of Zhamila BAKBERGENOVA (KAZ), also a bronze medalist from 2019.
Day 4 Results
Women's Wrestling
53kg (10 entries)
SEMIFINAL – Mayu MUKAIDA (JPN) df. Thi Ly KIEU (VIE) by TF, 10-0, 2:09
SEMIFINAL – Tatyana AKHMETOVA AMANZHOL (KAZ) df. Aktenge KEUNIMJAEVA by Fall, 4:48 (11-0)
57kg (8 entries)
SEMIFINAL – Risako KAWAI (JPN) df. Anshu ANSHU (IND) by TF, 10-0, 1:10
SEMIFINAL – Davaachimeg ERKHEMBAYAR (MGL) df. Altynay SATYLGAN (KAZ) by Fall, 5:16 (4-3)
62kg (8 entries)
SEMIFINAL – Yukako KAWAI (JPN) df Sonam SONAM (IND), 5-2
SEMIFINAL – Ayaulym KASSYMOVA (KAZ) df. Nomin Erdene PURVEE (MGL) by Fall, 3:31 (4-0)
65kg (6 entries)
SEMIFINAL – Naomi RUIKE (JPN) df. Bolortungalag ZORIGT (MGL) by Fall, 5:59 (11-3)
SEMIFINAL – Sakshi MALIK (IND) df. Nabira ESENBAEVA (UZB), 5-4
72kg (6 entries)
SEMIFINAL – Zhamila BAKBERGENOVA (KAZ) df. Tsevegmed ENKHBAYAR (MGL) by TF, 10-0, 3:31
SEMIFINAL – Mei SHINDO (JPN) df. Preet Kaur GURSHARAN (IND) by Fall, 3:46 (12-1)